whew! from this very day, i already received a lt of birthday reminders – reminding me of my birthday bash again. hope i can still cater a birthday bash to have my friends gather again aside from reunions and other gimiks..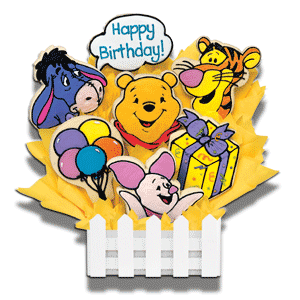 mmmmm..this year? i only wish to have my full winnie the pooh birthday party..hehehehe.. am i a kid still? i want that those who will join the party must wear something stuffs of winnie the pooh!jajajaja.. i cannot imagine my friends wearing winnie the pooh garments and stuffs..cute, isn't it?
..ooooops! not to frget the giftsss..all must be winnie the pooh also.hehehe..
and my wishlist?
winnie the pooh stuffs like undergarments of winnie the pooh, hahaha, tshirts, pants, skirts.. are there sandals and shoes with winnie the pooh figures? hehehehe..chocolates..
mmmmm..can i just have a house, a real house which has a winnie the pooh figure? hehehe.. can anybody do that for me? i have my own lot anyway, just someone who can shoulder the construction and materials of the house! hehehe..
whew, believe it or not, my friend, tian – really looked for something he thought that only him can give an extraordinary winnie the pooh stuff for me last year, and yes he did. he gave me a winnie the pooh bathe soap from disney. amazing!
i still cannot imagine what would be the next unexpected gifts i would have now..hehehe.
peace to my friends! 🙂