HAPPY VALENTINES DAY!
Well, I'd been tagged
with love
by Mommy
Lisa
,
Mariuca
and
Monica
of the same valentine fever. What does this means then? It's like am feeling the pressure to have a someone to date this day, huh? Isn't it? I hope it isn't.
So much with that, I just wanted to share the LOVE LIFE I would have. Maybe, through a movie, my love life could be summarized then. I guess so. Haha! And here it goes..
Your Love Life is Like The Graduate

"Would you like me to seduce you? Is that what you're trying to tell me?"

You believe that you can't pick who you fall in love with. And that sure explains a lot about your past!

For you, love has always been dramatic and crazy… which suits you just fine.

Your love style: Unconventional and a bit shocking

Your Hollywood Ending Will Be: Eerily calm

1) Once you're tagged, install the corner banner at your blog as a third party html code. (The corner banner need to stay at your blog for at least 2 weeks).
2) Post about this meme, Valentine's Love.
3) Add your blog/s with link/s to the Valentine's Lovers list and leave a comment at this post HERE.
3) Tag all your special friends.
4) Please remember to update your list regularly so that you would not miss out anyone in your Valentine's Lovers list.



Corner Banner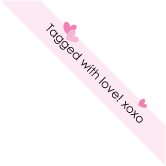 Valentine's Lovers