I was lurking over the internet where to find great goodies for my mom this coming Mother's Day. I thought of giving her a new bag. I haven't found any yet. However, when the bag that I ordered, bought for myself from an online store arrived, she has loved and asked to just it for herself. So, I decided to give it to her instead. And now, I thought of just preparing a nice dinner even just at home with her and our family. So I looked over the internet how to prepare foods the unique way. And I found this below.
Edible Arrangement for Mother's Day
Isn't the Edible Arrangement yummy to look at?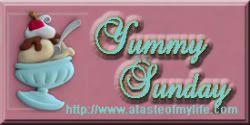 Happy Yummy Sunday!!!
Thank You FIRST COMMENTER!