At long last, I and Ate Pinx, a mommy blogger friend of mine who owns a number of blogs not to mention Hands Full of Life, Pink Memoirs and a lot more, has finally met in a family party of hers where I was one of her invited guests.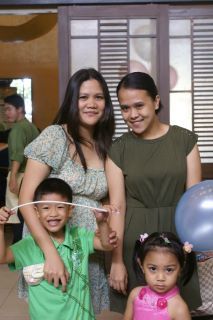 Mommy Pinks and I with Bogs, her eldest son and Adara, her niece
Honestly, I was hesitant to make a nod when she informed me that they'll be coming here in Cebu City for her mom and niece's birthday parties and she's inviting me to attend. Waaaaah! I was really excited to meet her in person but was shy enough, at the same time, to attend such family affair. Haha!
But nothing really has stopped us from meeting each other that Saturday morning of October 8, 2011. I really went there, attended the party and even enjoyed much especially the clown, leaf. LOL!
Hopefully, soon, we could have much longer time to talk, laugh and do more chitchats if time permits. Ate Pinks was busy that time also being the official photographer that day, LOL!, and they also need to get back to Bohol on that afternoon.
To Ate Pinks, thank you so much for inviting me and even sparing some time with me there.
And oh, I almost forgot, one of our mommy blogger friends, Mommy Ruby, when our picture together (shown above) was posted in Facebook, she said that we're looking like sisters. Haha! Are we?
Are we the two long lost sisters? LOL!