I've been planning to apply for a PhilHealth account long before but because I am honestly lazy to fall in-line to any PhilHealth offices, I told myself to wait until I get a regular job so that the company will just be the one to work on my PhilHealth account. However, when a blogger friend shared to me earlier that she'll be going to apply for herself today, I checked for the PhilHealth online application if already available. And yes! PhilHealth online application is now available!
Here's what I did.
I went thru PhilHealth Online Application and filled-up the form like this below.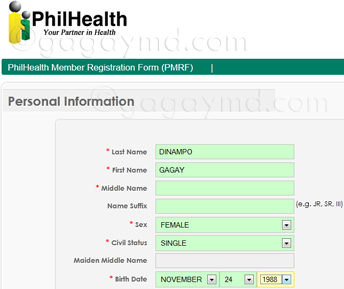 In the last part of the form, there's a choices either to send via email the requirements like birth certificates, valid IDs and more or to immediately attach them to this form. I opted to attach my scanned birth certificate to this form before I submitted.
After doing so, I saved and submitted my completely-filled-up form.
After few minutes, I received an e-mail where a verification link is attached to it.

Just so after verifying my application, a verification window like the one shown above popped out.
Hopefully, my PhilHealth Online Application will be going well. Let's wait and see how this stuff will turn out after a week or so.