When it comes to typing skills, I always remember and would always be thankful for our junior high school computer teacher then who taught us to type the fastest as we could. Aside from typing itself, we were able to memorize the keys in keyboard so to even with closed eyes, we still can type words accurately as we can.
Lately, while gotten bored in front of my laptop, I thought of nothing to do but to test my typing skills then. Here's my results below.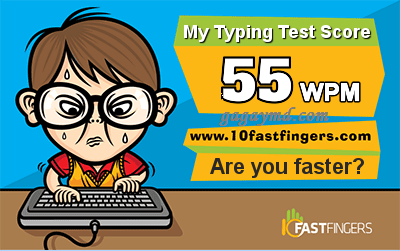 I know this result is a bit slow since I sometimes, I got results higher than 60. Maybe, this 55 words per minute is my lowest typing speed.
Oh well, how about you? Are you faster than I? Share your typing speed test now.